Tory leadership hopeful revealed he had taken drug in mock-media interview for 2016 campaign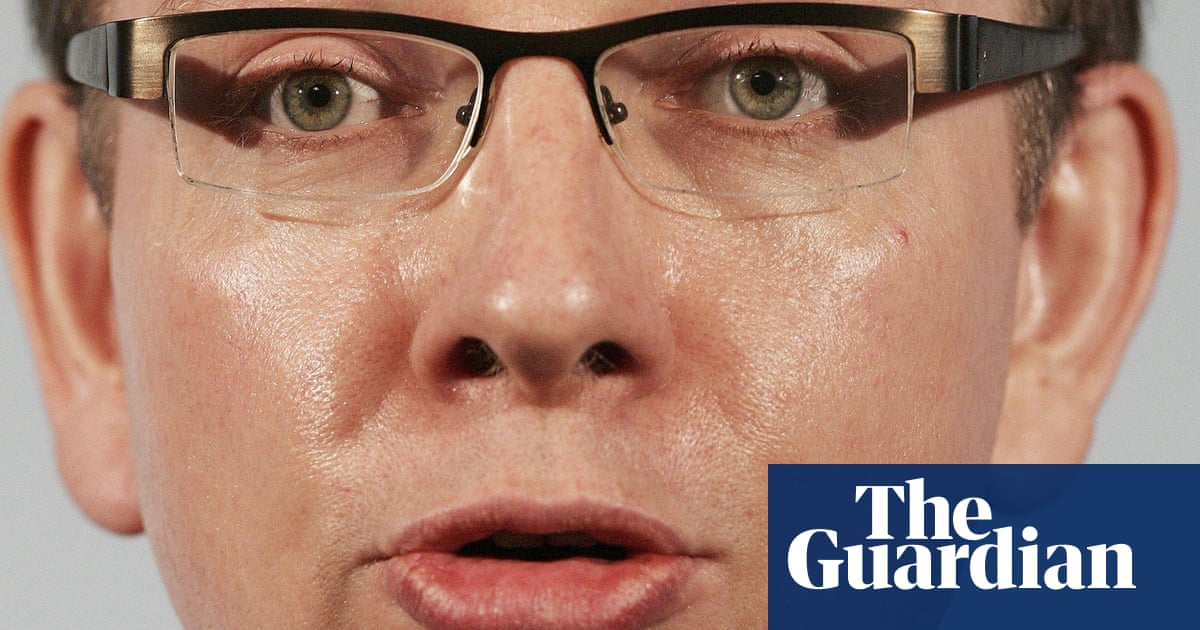 In the run-up to his 2016 campaign to be Tory leader, Michael Gove was being subjected to a mock media interview by his team, as they tried to anticipate what questions he could face from journalists.
*****************************************************
*****************************************************
In his soon-to-be published biography, Michael Gove: A Man in a Hurry, the journalist Owen Bennett writes that the then justice secretary was asked if he had ever taken drugs. Yes, cocaine, he replied, according to someone described as having intimate knowledge of the event.
According to Bennett: He was firmly instructed not to give that answer in public, and told instead to fall back on the words [David] Cameron had used when he was running for leader, namely that politicians are entitled to a private life before entering politics.
As the Daily Mail prepared to publish that anecdote in an extract of Bennetts book on Saturday, the environment secretary was forced to come clean. The book is correct, Gove said. I did take drugs. It is something I deeply regret. Drugs damage lives. They are dangerous and it was a mistake.
Obviously it will be for my colleagues in parliament and members of the Conservative party to decide now if I should be leader. I think all politicians have lives before politics. Certainly, when I was working as a journalist, I didnt imagine I would go into politics or public service. I didnt act with an eye to that.
The story quickly made it to the second edition front pages of Saturdays Daily Telegraph, the Sun, the Daily Mirror and the Daily Express, and its position at the top of the news agenda was established.
The revelations have provoked criticism from across the political spectrum, with the former senior drug adviser to the government Prof David Nutt telling the Observer that Goves disclosure was more proof that privileged politicians felt able to break the law, but not for others to do the same.
*****************************************************
*****************************************************
Craig Oliver, who was the former prime minister David Camerons chief spin doctor, told BBC Radio 4s Today programme that the admission could become an issue that overshadowed Goves leadership campaign messages, as the Tory rank and file were very socially conservative.
The following day, the Mail on Sunday reported claims that in 1999 Gove had written a column urging tougher action against cocaine use shortly before hosting a party at his Mayfair flat where guests were openly taking the drug. Goves spokesman said he had no recollection of a party on that date.
In the piece, headlined When its right to be a hypocrite, Gove wrote that he did not agree with Londons liberal consensus on loosening rules on the use of cocaine and other drugs. The knowledge that millennial demand for illegal drugs may lead to the potentially lethal adulteration of some substances hasnt been used to explain to citizens that the law is there for a purpose, he wrote. Instead its been acknowledged that some people feel they have to see in the new millennium in an altered state, so weve been given advice on how to minimise risk.
Despite the hostile headlines, Gove did not shy away from an appearance on the BBCs Andrew Marr Show, but that quickly turned into a grilling about whether he had ever lied on any official forms about his past drug use.
The environment secretary looked rattled and uncomfortable under tough lines of questioning about whether he should have gone to prison for taking Class A drugs and if it was right for teachers to have been banned from their profession for similar conduct.
The mood among the other leadership campaigns was one of excitement that the second place in the contest looked wide open, with the teams of Jeremy Hunt, Sajid Javid and Matt Hancock all feeling they were in with a chance again to take on the likely frontrunner, Boris Johnson.
However, there was also nervousness about the level of skulduggery going on behind the scenes, as many of the advisers on the various campaigns have worked together closely in the past and have the potential to know a multitude of political secrets that might harm their rivals. The clean campaign pledge signed by some of the candidates may yet be overtaken by events.
The best guess of Gove supporters was that someone working for a rival might have spoken to Bennett about Goves initial confession in 2015. The Mail on Sunday ran reports that Gove supporters suspected Beth Armstrong, an aide to Dominic Raab who used to work for Gove, of having leaked the information.
It doesnt take Sherlock to work out how this got out, one insider told the paper. Raabs team said: This did not come from anyone involved in the Raab campaign. We would never look to score cheap political points like this. We have nothing but admiration for Michael Gove and all he has achieved as a minister.
Original Article : HERE ; This post was curated & posted using : RealSpecific
This post was curated & Posted using : RealSpecific
Thank you for taking the time to read our article.

If you enjoyed our content, we'd really appreciate some "love" with a share or two.

And ... Don't forget to have fun!