Anti-abortion lobbying group using its influence in the Trump administration to help shape policy on the world stage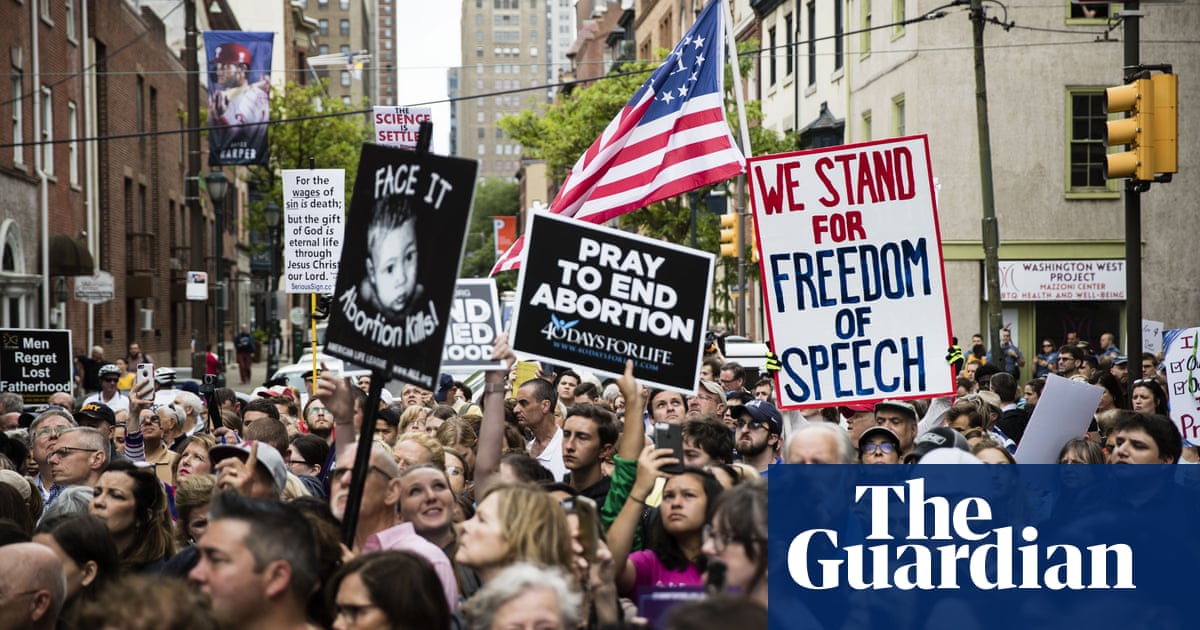 Last spring, Laurie Shestack Phipps, a diplomat at the US mission to the UN, received a set of talking points from the state department before an international womens conference, setting out clear red lines against mention of sexual and reproductive health care.
*****************************************************
*****************************************************
This had become the norm in the Trump administration, where the once uncontroversial phrase was seen as code for abortion. Use of the word gender was also strongly discouraged, as it was viewed as a stalking horse for LGBT rights.
It was no surprise that Phipps colleague, Bethany Kozma, a political appointee at the US agency for international development, had the same text. What was shocking was that she heard exactly the same words coming from the Yemeni spokesman for the Arab Group.
Most striking of all the shared script was already familiar. It had been circulated before the conference by an anti-abortion lobbying group called the Center for Family and Human Rights, or C-Fam.
C-Fam has emerged from the extreme right fringe on abortion, sexual orientation and gender identity to become a powerful player behind the scenes at the UN. With a modest budget and a six-strong staff led by the president Austin Ruse, it has leveraged connections inside the Trump administration to enforce a rigid orthodoxy on social issues, and helped build a new US coalition with mostly autocratic regimes that share a similar outlook.
And that coalition has already significantly shifted the terms of the UN debate on womens and LGBT rights.
When we got into negotiations, my instructions from Washington were verbatim taken from C-Fam, and Kozma had the same talking points, said Phipps, now an adjunct professor of global issues at Fairleigh Dickinson University. Then the Arab group spoke and they read their statement and it was exactly the same. I turned to Bethany and said: How did they get your talking points? I was winding her up. She looked pretty chagrined. We both knew they were from C-Fam.
C-Fams channel into the state department and into the US mission to the UN under the then ambassador Nikki Haley, had made itself increasingly apparent in the run up to the 2018 Commission on the Status of Women at the UNs New York headquarters.
Nikki Haleys staffers were in very close touch with C-Fam. C-Fam were continually phoning and emailing Nikki Haleys staff talking about the language, giving line-by-line instructions, Phipps said. It was highly inappropriate for a non-government organisation to be giving line-by-line instructions. C-Fam would be sending emails which would be regurgitated in US cables.
During the 2018 womens conference, Kozma and other Trump political appointees attended a listening session at C-Fam offices without informing the rest of the US delegation, in a breach of normal practice.
*****************************************************
*****************************************************
Before the Trump administration C-Fam had been a fringe operator at the UN. Founded in 1997 as the Catholic Family and Human Rights Institute, to monitor and affect the social policy debate at the UN, it changed its name to avoid confusion with official organs of the Holy See.
In 2012 Ruse, C-Fams president, complained about a decision by the human rights council to look into the summary executions by authoritarian regimes of people based on their sexual orientation and gender identity, on the grounds that the decision was introducing language that is just the nose of the camel under the tent.
In 2015, a Catholic priest on the organizations board resigned in protest at Ruses comment that the hard-left, human-hating people that run modern universities should be taken out and shot.
Although Ruse horrified Catholic liberals, he denied that the organisations name change was at the request of the church hierarchy.
He said in an email: The name was long and unwieldy and not even my mom could remember it. He added: Because Catholic was in our title, we were often confused with the institutional church and determined this was not fair for the Holy See, and we wanted to broaden our appeal with regard to our scholarship and our fundraising.
Once Trump took office, however, Ruse became an insider, able to command attention from top state department officials. In March 2017, he wrote to the head of the state departments powerful policy planning unit, Brian Hook, and other senior political appointees at the agency, complaining that only one anti-abortion group was part of the US delegation to the Commission on the Status of Women (CSW) that year.
Ruse wrote. We believe the problem here is that Laurie Shestack Phipps is in charge of this, and, while she is a career person, it is our belief, even under the Bush administration, that she is not with the administration on these important issues.
Pam Pryor, a former aide to Sarah Palin, who had been given a senior adviser job in the state department office of civilian security, democracy and human rights, wrote back to Ruse a little over an hour later, saying: I share your concern about the folks in charge. I can check out Ms Shestack Phipps, though, and get back to you. Thank you for caring about this with us!
C-Fam was subsequently made part of the official US delegation to the 2017 CSW conference, and sent a delegate who sat at Phipps side throughout the event, taking notes.
Phipps was not aware of any effort to push her out of her position, but she found it increasingly hard to represent an increasingly rigid US position on healthcare for women.
The breaking point came in April 2018 at the UN Commission on Population and Development, where member states tried to hammer out consensus positions. For most of the week of the conference, the US delegation helped draft a joint statement that included references to reproductive and sexual health (RSH), that had been the result of past compromises during the George W Bush and Barack Obama administrations.
On the last day, I got new instructions, Phipps recalled. I was told to go into the room and say we cant agree with RSH language, only references to maternal health. I had to go into the room and say: The US government cannot agree to what I have just spent a week negotiating. The next day, I put in my retirement papers.
Phipps left the state department in December.
*****************************************************
*****************************************************
Her experience is a reflection of the power of lobbying organizations like C-Fam when it comes to instilling a resolutely anti-abortion stance in the state department and US missions abroad.
The small but vocal organization plays a watchdog and coalition-building role at the UN, where the US increasingly finds common cause with Russia, the Gulf Arab monarchies and the Holy See.
In 2015 it helped create a coalition at the UN called Group of Friends of the Family (Goff), which brought together countries like Saudi Arabia, Sudan, Russia, Turkmenistan, Tajikistan, Malaysia, Egypt and Iraq. Once scorned by western delegates as the Axis of Medievals, it is becoming, with US support, a powerful voice at the UN on social issues. On Wednesday, C-Fam and Goff convened a high level meeting at the UN, as a show of strength of the anti-abortion, anti-LGBT lobby.
Ruse has helped forge a partnership between US social conservative groups and Orthodox pro-family church organisations in Russia with close ties to Vladimir Putin. He met and praised Konstantin Malofeev, a Russian oligarch with extensive ties to the European far-right, for working to bring Russian Orthodox and US Christians closer together.
Ruse wrote: Malofeev and many other Russians see themselves as a Christian nation sent to help other Christians around the world. For them, at least, thats why they support the Assad regime. Hes better for Syrias Orthodox Christians.
In 2017, Ruse also forged a bond with Trumps then chief strategist, Steve Bannon. In February that year, he wrote a magazine article hailing Bannon as brilliant, salty, visionary, and driven.
The next month, Ruse wrote to Brian Hook congratulating the administration on its adoption of the Mexico City policy, also known as the global gag rule, which cuts off US aid to any non-governmental organisations (NGOs) even indirectly involved with clinics providing or promoting abortion.
Original Article : HERE ; This post was curated & posted using : RealSpecific
This post was curated & Posted using : RealSpecific
Thank you for taking the time to read our article.

If you enjoyed our content, we'd really appreciate some "love" with a share or two.

And ... Don't forget to have fun!