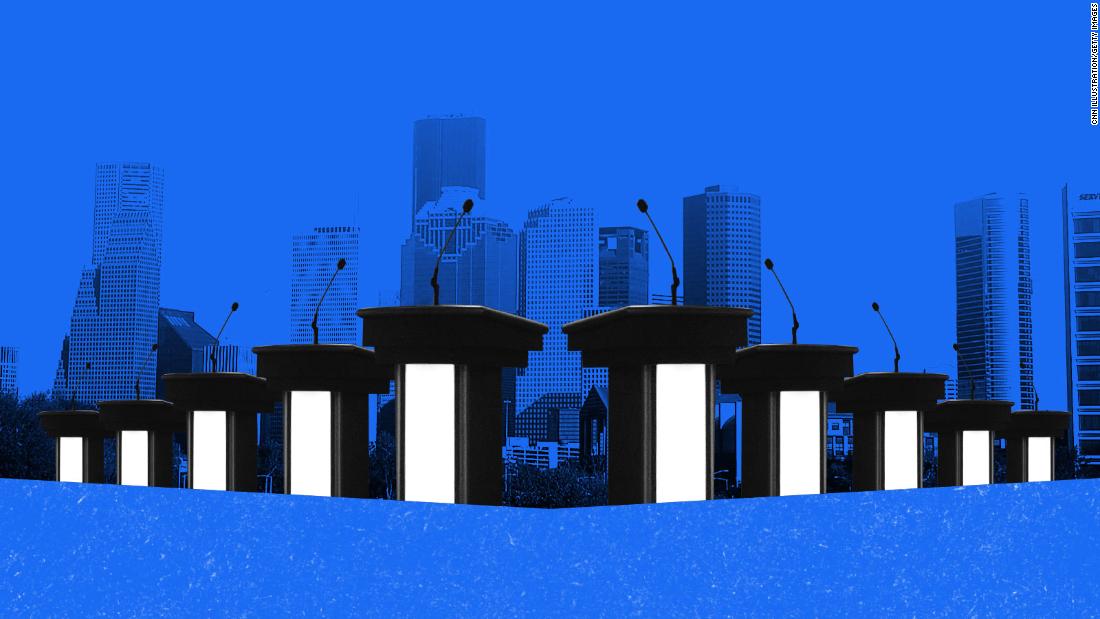 (CNN)With148 daysuntil the Iowa caucuses anda barely winnowed Democratic field still vying for the nomination, the 2020 election is already in full swing.Every Sunday, I round up the five BIG storylines you need to know to understand the upcoming week on the campaign trail. And they're ranked — so the No. 1 story is the most important of the coming week.
5. Steyer's in (the next debate): Billionaire businessman Tom Steyer spent heavily to try to make it into Thursday's debate in Houston. (MUCH more on that debate below.) He failed, coming up one poll short of the qualification criteria.

But on Sunday, Steyer got his poll. In

a CBS/You Gov poll in Nevada

released Sunday, Steyer took 2% — the fourth national or early state poll in which he has posted at least 2% support.

That means that there will be at least 11 candidates — and two nights of debates — for the fourth debate in October. (All 10 candidates who made it into the third debate also qualify for the fourth.) Who else might get in? Hawaii Rep. Tulsi Gabbard is now the closest, having met the fundraising threshold (130,000 unique donors) and with two (of the four necessary) polls showing her at 2%. Spiritual guru Marianne Williamson is next on the list, with one qualifying poll.

Debating over two nights necessarily means the front pack will be split up — at least somewhat. Which makes what happens on Thursday night all the more intriguing.

4. Is Tim Ryan going kamikaze?: Ohio Rep. Tim Ryan is still running for the Democratic presidential nomination — surprise! — but he has almost zero chance of actually winding up on the ticket. Despite that, he may have a real role to play in deciding who Democrats pick.

Here's why: In an

interview with Bloomberg

last week, Ryan said this: "I just think Biden is declining. I don't think he has the energy. You see it almost daily. And I love the guy."

Over the weekend, Ryan held his ground in an interview with CNN. "It's not like I said something that a lot of people aren't thinking,"

Ryan said

. "We have to be honest with each other. There's so much at stake in this election."

The question of whether Biden, who is 76 years old, is up for the race has been kicking around the edges of the Democratic primary since the former vice president announced his candidacy. Those whispers have grown louder after Biden struggled in the first debate (and, to a lesser extent, the second) and as he has continued to misremember things and make other factual mistakes on the campaign trail. A

bloodshot eye

during CNN's climate change town hall, which Biden said was the result of bruising his eye in the process of taking out a contact lens, also became an issue — thanks in large part to Matt Drudge pushing the photo on his eponymous website.

Biden has

responded

to the questions as best as he can, noting that his age and competency can and should be an issue. But Ryan has clearly re-injected the "is Biden really up for this" question into the race. And it's not going to go away — even after Ryan's candidacy does.

3. Kamala Harris hit a snag: After the first presidential debate back in June, there was no 2020 candidate hotter than California Sen. Kamala Harris. Her command performance in the debate, which included a smackdown on Joe Biden, sent her soaring. Money poured into the campaign and polling showed she was suddenly a top-tier candidate.

Times have changed. Harris struggled in the CNN debate in Detroit to recreate the magic of her first debate performance. She has continued to struggle with questions about where, exactly, she stands on health care.

Her poll numbers have slipped

. She's enduring headlines like "

Why Kamala Harris is stuck in neutral.

" And she spent the weekend apologizing for seemingly agreeing with a questioner who called President Donald Trump's actions "

mentally retarded

."

Her top campaign advisers huddled with donors late last week in New York City amid questions about the current state of the campaign,

according to the Wall Street Journal

, evidence of the mounting concern over her chances.

Harris continues to have considerable advantages in the race: She is charismatic and well-funded. She has real organizations — backed by influential endorsers — in early states. And she is generally well-liked by liberals and moderates in the party.

But this current dip speaks to Harris' attempt to be all things to all people. At times she seems as though she is trying to align with the Bernie Sanders/Elizabeth Warren end of the party. At other times she is clearly backing away from some of their more radical proposals — Medicare for All being the shining example — for fear of what it might do to her general election chances.

Harris has a major chance to press "reset" on the campaign this Thursday in the third Democratic debate. Scroll down for much more on that.

2. GOP primaries no more?: In the latest attempt to turn Trump's nomination as the Republican nominee in 2020 into a coronation, several state parties are taking steps to actually eliminate presidential primaries in their states entirely.

The stated reason for the cancellations is to save precious state party money. After all, why hold an expensive vote when the party is unified behind a single candidate? In 2004, for example, 10 states canceled their GOP primaries or caucuses and simply allocated all of their delegates for the Republican National Convention to George W. Bush.

Of course, 2004 is not 2020. Bush had no opposition. Trump now has three announced challengers: Former Massachusetts Gov. Bill Weld, former Illinois Rep. Joe Walsh and former South Carolina Gov. Mark Sanford, who formally announced on Sunday.

While Trump is a heavy favorite to be the GOP nominee against that trio, there is the possibility that certain primaries and caucuses could be embarrassing for the President — exposing a significant opposition to him within the party. Republican and Trump 2020 campaign officials are working to ensure that embarrassment doesn't happen. Which is good for Trump but bad for democracy.

These four states will likely be the first to kowtow to Trump's wishes. My strong guess is they won't be the last.

1. The 3rd Debate: For the first time in the race, the top 10 candidates will all appear on a single stage Thursday night in Houston. (The debate will air on ABC and, yes, I will have a winners and losers column ready right after it ends.)

The big headline is that Joe Biden and Elizabeth Warren will be on the same stage — and at podiums next to one another! — for the first time in the race. Biden is the current front-runner, Warren the candidate with the momentum. They also represent the two competing visions of how the Democratic Party exists and flourishes in the age of Trump: Biden advocates a return to "normal," Warren is calling for large-scale structural reform in our politics.

While that matchup will, rightly, suck up most of the oxygen in the pre-debate handicapping, it's worth remembering that there will be eight other candidates on the stage Thursday too. Eight other candidates who, unlike in the past two debates, have demonstrated consistent and real appeal in both polling and fundraising — and believe they can be the nominee.

So, who else should you watch for? Julián Castro has shown over the course of the first two debates that he knows what he's doing out there. Ditto Cory Booker. Kamala Harris could really use a strong performance after

a shaky past month.

I'm most intrigued, though, by Pete Buttigieg. He has been purposely low-key in the first two debates, likely aiming to project gravitas amid questions of whether 37 is too young for someone to be president. But Buttigieg has more personality in him — as demonstrated by his presence on the campaign trail — and this debate would seem like the best place to bring it out.
Original Article : HERE ;
This post was curated & Posted using : RealSpecific
Thank you for taking the time to read our article.
**********************************************************
Interested in building a blog or auto-blog like this one ? Or just want to order one ?  Join our "Blogging Tips Tricks and Resources Skype" Group and let's chat about it. 
Join "Blogging Tips Tricks and Resources Skype" HERE
Interested in Starting your own Roku TV Channel ? Or interested in learning how to build one ? Join our "Roku TV Channel Development" Skype Group and let's chat about it. 
Join "Roku TV Channel Development" HERE
**********************************************************
If you enjoyed our content, we'd really appreciate some "love" with a share or two.
And ... Don't forget to have fun!